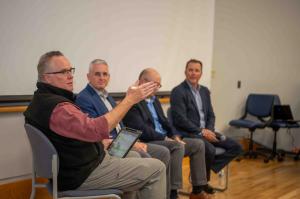 VADM TJ White moderates panel on M&S for decision making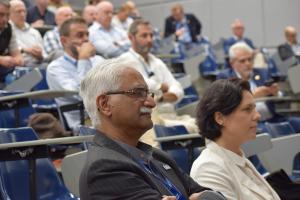 The Naval Postgraduate School Foundation hosted the Modeling & Simulation Tech Day at NPS for the NATO Modelling & Simulation Group (NMSG) Symposium Oct. 19-20.
MONTEREY, CA, USA, October 20, 2023 /EINPresswire.com/ — "We're at a point where the data availability, the technology and the capability is really coming to a head. Where we're going to be able to do things we've never been able to do before, going to be able to look at [a level of] complexity of problems we haven't before," said Thomas Wiley, Senior Director of Integrated Solutions Modeling & Architecture with RTX. "I think there's a huge opportunity in the next five to ten years in this space to just break new ground every day."
Wiley spoke as part of an industry panel during the NATO Modeling & Simulation Tech Day on October 18, where more than 200 professionals from across the Naval Postgraduate School, the wider DOD, industry, and NATO gathered for tech demonstrations and panel sessions.
Tech Day served to strengthen current relationships between key stakeholders in the field of modeling & simulation, promote engaging discussion between NPS, Department of Defense, NATO and industry innovators, and create future opportunities for shared collaboration across the globe.
The Naval Postgraduate School Foundation hosted the Modeling & Simulation Tech Day at NPS for the NATO Modelling & Simulation Group's (NMSG) Annual Symposium in Monterey Oct. 19-20. More than 75 NMSG members participated in the Tech Day events.
"The United States can achieve nothing alone," said Todd Lyons, Vice President of the Naval Postgraduate School Foundation, during the opening ceremony. "We have to work with our partners and allies around the world to achieve our common goals."
Throughout the day, NATO attendees and NPS students, faculty and staff had an opportunity to test drive technology and engage with each other and industry representatives. The Tech Day included both large and small companies, such as Microsoft, NVIDIA, Parallel Works, Rescale, CareAR, Matrix Pro Sims, Pytho AI, Epic Games, Lockheed Martin, RTX, and Booz Allen Hamilton. NPS' operationally experienced active-duty student body and expert faculty bring their extensive knowledge of defense challenges and use cases for these technologies, making this interaction particularly valuable for exploring innovative solutions to complex problems.
"The students ask very relevant questions technology-wise," said Shah Hossain, Chief Technology Officer at Pytho AI. "It is useful to know how they are interacting with those technologies."
Pytho AI, a startup company with a mission to prepare warfighters for the challenges of modern conflict with an AI copilot to supercharge productivity, entered into a Limited-Purpose Cooperative Research and Development Agreement (LP-CRADA) with NPS in July 2023 and is working on a wargaming project with faculty and students in the the Modeling, Virtual Environments and Simulation (MOVES) Institute.
"Getting the chance to understand the customer or potential customer has been helpful, whether it's students who are going to go lead their teammates again or whether it's industry or NATO and how they could potentially apply the product," said Mike Mearn, CEO of Pytho AI. "What do these people do? How could our product apply to them? Could I solve a problem for them? Just understanding what other people are working on is valuable."
The two modeling & simulation panel discussions included an engaged audience that actively participated in the Q&A sessions, igniting discussions on important topics. Subjects included strategies for attracting young talent to defense simulation fields, the influence of human emotions and stress on decision making, cultural considerations of AI and data collection and the balance between trusting models and relying on human experts in various decision-making scenarios.
"The conversations at Tech Day are critical for NPS students and faculty because they sow the seeds that will bear tremendous fruit in later times. We do not have the luxury of knowing what the world will bring or how the landscape will change," said U.S. Army Lt. Col. Charlie Rowan, Director of The MOVES Institute at NPS. "But we can engage in productive conversations at events like Tech Day that foster further collaboration to help us prepare for those uncertain times by leveraging the world of modeling and simulation to explore the unknowns of tomorrow, today."
Retired Vice Adm. TJ White, a Department of the Navy Chief Information Officer (DON CIO) Chair at NPS, moderated the first panel on "Modeling & Simulation for Decision Making." The panel included experts from Lockheed Martin and Booz Allen Hamilton and a defense consultant. They explored how modeling & simulations could be used to go beyond live, virtual and constructive (LVC) training and education to inform operational decision making at the edge. It also explored how current technology will enable commanders to sense, make sense, and act in a rapidly changing environment.
Rowan moderated the second panel, "Modeling & Simulation: Building the Infrastructure," which focused on building the infrastructure to support modeling & simulations for LVC training and education as well as support modeling & simulation at the edge. The panel, which featured experts from RTX, NVIDIA and Matrix Pro Sims, also explored how current technology might enable NATO to connect and collaborate in LVC environments before a fight.
The Naval Postgraduate School was an ideal location for Tech Day due to its more than 40 years of research and education in modeling & simulation. Notably, NPS was the birthplace of the U.S. Army's video game series "America's Army," initiated in 1997 and used for both recruitment and training purposes. NPS and especially the MOVES Institute, conducts invaluable modeling & simulation research and education to ensure that the DOD is able to meet future challenges in training, systems development, acquisition, training, deterrence, and warfighting.
"Tech Day enhanced our ability to communicate with a broad range of entities by being able to show our personnel and facilities at home. Multiple guests had previous engagements with MOVES. Some were graduates of the MOVES program, some had worked on CRADAs, and others have been conducting collaborative research with our institute for years," said Rowan. "Being able to highlight our people, our work, and our spaces was invaluable to communicate the capability that we bring as a teammate.
Desiree Dillehay
Naval Postgraduate School Foundation
+1 612-437-9289
[email protected]
Naval Postgraduate School and Modeling & Simulation for defense
Originally published at https://www.einpresswire.com/article/663176133/nato-us-experts-strengthen-partnerships-and-explore-modeling-and-simulations-for-defense-applications